Chamber News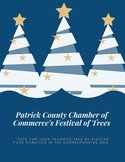 November 20, 2017
Come get in the holiday spirit with our trees beautifully decorated by 6 local non-profits. . . . read more

November 20, 2017
Meet Landmark's newest Administrative Team . . . read more
October 23, 2017
Come be a part of something that helps grow and promote Patrick County. The Patrick County Chamber of Commerce and the Reynolds Homestead cordially invites those individuals who are interested in learning how to better serve our county to our Orientation on Thursday November 2, 2017 at 5:30 pm to 7:30 pm. . . . read more
Upcoming Events
Nov 20-Dec 30: Patrick County Chamber of Commerce's Festival of Trees
Stuart - FOR IMMEDIATE RELEASE November 17, 2017 Patrick County Chamber of Commerce Stuart, VA~ Visit a wondrous world of enchantment during the 2017 Patrick County Chamber of Commerce Festival of Trees, on view to the public from Monday November 20, through Saturday December 30, 2017. This wonderful holiday event features six decorated trees, by local non-profits in themes suited to their missions. The trees are on display at the Patrick County Branch Library. This is a fundraiser for the six participating non-profits. The public is asked to vote for their favorite tree by making a monetary donation in the voting box. All money raised will be awarded to the charities. The local charities participating are, Blue Ridge Regional Library Foundation/Bookmobile Fund, Caring Hearts Free Clinic, One Family Productions, PARC Workshop, Patrick County Alzheimer's Group, Patrick County Community Food Bank. For more information contact the Patrick County Chamber of Commerce office at 276-694-6012 or visit, www.patrickchamber.com Library Hours FOR IMMEDIATE RELEASE November 17, 2017 Patrick County Chamber of Commerce Stuart, VA~ Visit a wondrous world of enchantment during the 2017 Patrick County Chamber of Commerce Festival of Trees, on view to the public from Monday November 20, through Saturday December 30, 2017. This wonderful holiday event features six decorated trees, by local non-profits in themes suited to their missions. The trees are on display at the Patrick County Branch Library. This is a fundraiser for the six participating non-profits. The public is asked to vote for their favorite tree by making a monetary donation in the voting box. All money raised will be awarded to the charities. The local charities participating are, Blue Ridge Regional Library Foundation/Bookmobile Fund, Caring Hearts Free Clinic, One Family Productions, PARC Workshop, Patrick County Alzheimer's Group, Patrick County Community Food Bank. For more information contact the Patrick County Chamber of Commerce office at 276-694-6012 or visit, www.patrickchamber.com FOR IMMEDIATE RELEASE November 17, 2017 Patrick County Chamber of Commerce Stuart, VA~ Visit a wondrous world of enchantment during the 2017 Patrick County Chamber of Commerce Festival of Trees, on view to the public from Monday November 20, through Saturday December 30, 2017. This wonderful holiday event features six decorated trees, by local non-profits in themes suited to their missions. The trees are on display at the Patrick County Branch Library. This is a fundraiser for the six participating non-profits. The public is asked to vote for their favorite tree by making a monetary donation in the voting box. All money raised will be awarded to the charities. The local charities participating are, Blue Ridge Regional Library Foundation/Bookmobile Fund, Caring Hearts Free Clinic, One Family Productions, PARC Workshop, Patrick County Alzheimer's Group, Patrick County Community Food Bank. For more information contact the Patrick County Chamber of Commerce office at 276-694-6012 or visit, www.patrickchamber.com Hours: Monday: 10 AM - 6 PM Tuesday: 10 AM - 8 PM Wednesday: 10 AM - 6 PM Thursday: 12 PM - 8 PM Friday: 10 AM - 2 PM Saturday: 10 AM - 2 PM
Nov 25: Meadows of Dan Christmas Parade
Meadows of Dan - MEADOWS OF DAN – With Thanksgiving festivities over by the end of the week, many people will begin preparations for Christmas. Ringing in the winter holiday, the Meadows of Dan Community Association will host its sixth annual Christmas parade Nov. 25 at 3 p.m. Organizers see it as the perfect opportunity for families and friends to gather together in a central location to officially welcome the start of the season. "I believe that folks keep coming because most families are in town for the Thanksgiving holiday," said Trinity Goad, association president. "It's something for them to do together and it's just a nice event." After filling their bellies on Thursday and shopping 'til they drop on Friday, the event gives residents of Patrick County and the surrounding area an opportunity to slow down and enjoy an evening with neighbors and loved ones. "It is a great way to kickoff the season because it is a limited time frame until Christmas and I believe that a Christmas parade really gets things going for the spirit and the mood for the season," Goad said. As in years past, there's no theme and no admission fee for those wanting to take part in the procession. "Each year, we actually stay away from a theme just to make sure that everyone feels that they are welcome to participate," Goad said. "That way no one has to go through a lot of process to accommodate a themed event." For those interested in walking the route or entering a float, all that's required is a parade application, available by contacting Goad right up to the day of the event. "There isn't a deadline for parade applications," Goad said. "If people want to be in the parade and they have not filled out an application, then they can still participate. We line up at 2 p.m. on Light Ridge Road." This year's Grand Marshall will be Brenda Quesinberry, whom the association president called "a pillar in our community and a great asset to Patrick County." Quesinberry, who faced a scary bout with acute myeloid lymphoma earlier in the year, is on the road to what doctors anticipate will be a full recovery. The parade will follow the same route as in years past. The official line up and starting point will take place on Light Ridge Road, then the parade will continue down Bypass 58 toward the business district. The procession will end on Squirrel Spur Road.
Nov 25: Small Business Saturday
Shop Small. Business Saturday. Shops open around Stuart, Meadows of Dan and Patrick County. Support the local economy and shop our great local and unique stores.
| | | |
| --- | --- | --- |
| | | Chamber Event |